One of the things that really should "just work" in the Apple environment is printing. Printers are a piece of hardware "sent from hell" and it doesn't get any easier just because you have a Mac. See this insightful Oatmeal comic for why that is.
Printer drivers don't keep up, perhaps because of the endless variants created mostly to sell ink cartridges, toners and other useless add-ons.
Unfortunately, Mac OS X Lion does not include drivers for the Samsung ML-1210, a cheap old black and white laser printer that I bought years ago. I should've remembered this as I had the same problem on OS X Leopard and Snow Leopard. The following solution works on all those variants:
In common with other variants of OS X, Lion supports CUPS – the Common Unix Printing System. This means that generic open-source drivers are available to use that enable Lion (and indeed Leopard, and Snow Leopard) to successfully print using this printer.
There are three separate pieces of software to install, including the driver, but all can be found at this page on the Linux Foundation website.
Essentially, you need to download each Disk Image listed (Samsung GDI, Foomatic-RIP and GPL-GS) and run the installer inside each one.
Once you've done this, open System Preferences and then click Print & Scan. Click on the small + icon on the left which should bring up the Add Printer dialog box. Samsung ML-1210 should already be listed and, under 'Print using the Samsung ML-1210 Foomatic/gdi driver should already be selected.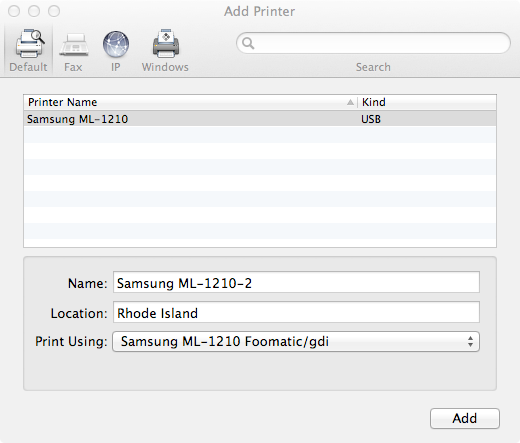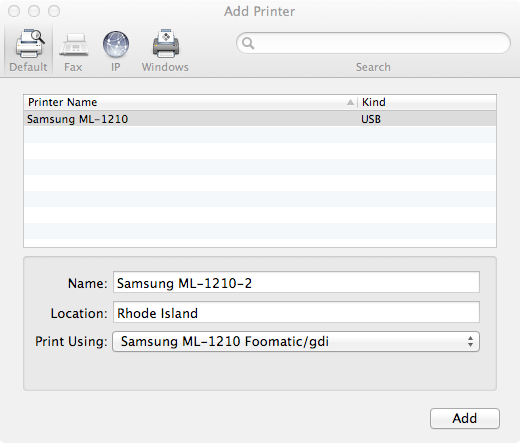 Click 'Add' and the printer will be added to the list of available printers on your system. Sorted!